We live in north Sarasota, so our travel time is usually 45 minutes. If we lived closer, we would visit more often, of that I am certain.
We have a new tea to share with you, Evergreen Peach Tea, but I must first admit, Cafe Evergreen is a place I love to visit.
Typically we, (Dianne Glass and me) visit Cafe Evergreen after a soak at Warm Mineral Springs. Your sulfur scented skin is welcome here! The Fountain of Youth Balboa was searching for and the many European soakers clinging to pool noodles with their unique and colorful hats, Warm Mineral Springs is 'Old Florida' at its finest!
Juice Bar – Yes!
Espresso Bar – Yes
Organic – Yes!
Gluten-Free – Yes!
Vegetarian – Yes!
Vegan Options – Plenty!
The owners, Annette and Chef Ted, met at Warm Mineral Springs. Chef Ted ran the cafe, and Annette offered spa services.
They found a historic building on Tamiami Trail in Nokomis. This was the site of the first Bank and Post Office in Sarasota County and was built in 1923. It is the oldest building along US 41 between Tampa and Venice.
On the menu, the Evergreen Club and the Vegan Roasted Beet Reuben are my favorites. The burgers are always full-flavored with herbs and spices and include lamb and bison to go with the local, grass-fed beef. The sweet potato fries are my typical side, but you can't go wrong with any of the sides. The gluten-free and vegan "Super Food Slaw" is a perennial favorite. I have had Bone Broth in the past! Cafe Evergreen uses ⅔ less salt than most restaurants.
I could go on about the menu, but If you have been to Cafe Evergreen, you want to get back there as soon as you can.
You should know many people bike the Legacy Trail from Sarasota towards Venice and make Cafe Evergreen their lunch destination. And, the Legacy Trail extension is expected to open later this year and will connect downtown Sarasota to downtown Venice. Fantastic!
I like to think people return to Cafe Evergreen for the tea we created for them back in 2016. Great restaurants deserve great teas.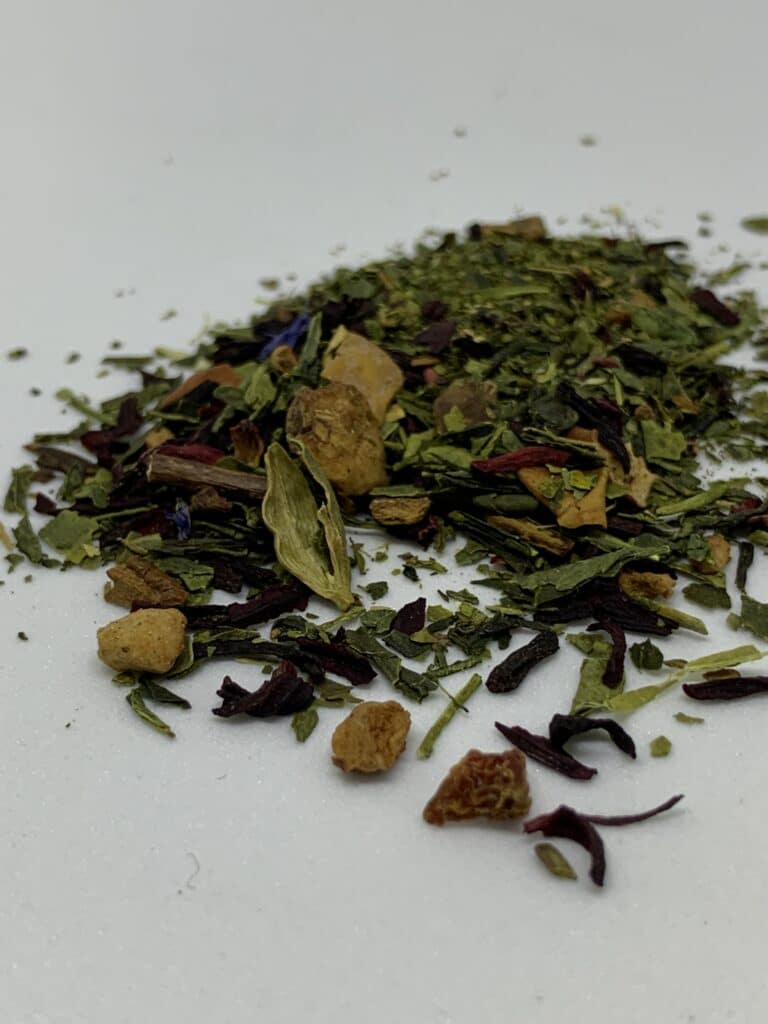 This custom-blended Iced Tea is absolutely delicious. Evergreen Peach Tea is a magical blend of our Organic Sencha Green Tea, Peach Paradise, and Spicy Market Blend. Ingredients include peaches, apples, rose, cinnamon, ginger, clove, cardamom, hibiscus, black pepper, and organic green tea.
This blend is fabulous for Iced Tea (or is it Ice Tea) and a lovely way to start your day with a hot cuppa Evergreen Peach. Enjoy!
Steep this tea multiple times as loose leaf teas have far more flavor than traditional tea bags due to the superior quality and freshness. Tea strength is a personal decision, so please experiment to determine your preferences.
For a Hot Cuppa, use water between 180 and 190 degrees F, or allow boiling water to stand for 2 minutes. Steep your Evergreen Peach Tea for as little as 1 minute, but not more than 4 minutes. Evergreen Peach Tea can be steeped at least three times and, depending on the steep times, as many as five times. Also, consider blending the first steep with the following steeps to balance the tea; if you do not want to drink all the tea, store it in the fridge for excellent iced tea.
Try the cold brew method to make Ice Peach Tea. The rule of thumb is 1 oz of tea per gallon, or roughly a teaspoon for 8-10oz of water if you make a smaller quantity. We suggest you try different measurements and times to achieve the taste you like the best.
Fill a sealed container with cold water, place the loose leaf tea in cold water, and then go straight into the refrigerator for 10-18 hours. The tea will be deeper in color and flavor if infused longer. Strain the tea leaves out after 24 hours, and put the tea in a sealed container or serving pitcher. Enjoy!
Local Tea Company
Local Tea Company promotes local products and services, protects local environments, and celebrates local treasures. Great things start at the local level. Therefore it is no surprise our motto is "Sip Locally."
Three times more money is injected into the local economy when people buy from local businesses rather than national chains. Local businesses put their money back into the local
economy. Both employees and vendors contribute to a cycle of support that strengthens a community. Sip Locally.
Be sure to try this South Trail Gem. Perhaps an Ahi Tuna Bowl with a cup of iced Evergreen Peach Tea. Manna. Even better if you work in a visit to Warm Mineral Springs.